On May 10, in order to better promote students' employment and improve the quality of employment, Student Union of PhD students and postgraduate students invited Ms. Hong Helu, Deputy Director of Development and Communication Department, Career Guidance Centre of Zhejiang University, and more than 30 students from Class of 2018 and 2019 to participate in a resume sharing meeting held in Yuquan Campus.
Ms. Hong is in connection with more than 1000 enterprises, takes over thousands of resumes every year. She specializes in providing accurate and in-depth guidance of career planning, resume modification, etc. to help job seekers.
On the basis of actual cases, Ms. Hong analyzed several major elements and pitfalls in resume writing. She carried out the latest and the practical resume revision strategy and resume writing template for students. And she also introduced some key employment information received by the Employment Guidance Center in recent years, coaching all aspects of the job hunting in students' concern face to face.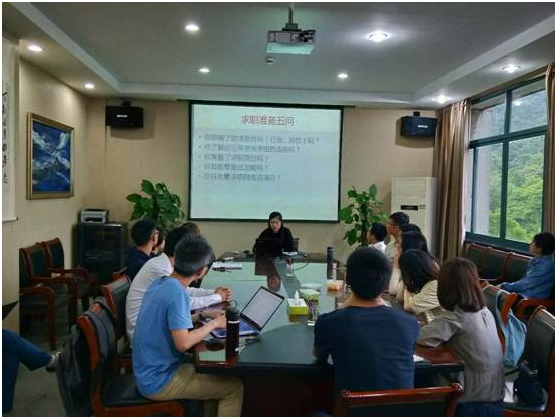 At the end of the meeting, Ms. Hong also collected the resume of the students and agreed to revise it one-by-one to help them optimize their resume and raise their confidence in job hunting.
Through this resume sharing meeting, students have had a better understanding of their needs, opened up their minds and enhanced their confidence in job hunting.